GLOBAL MISSION LEADERS' TRAINING IN ABIDJAN, COTE D'IVOIRE 2018.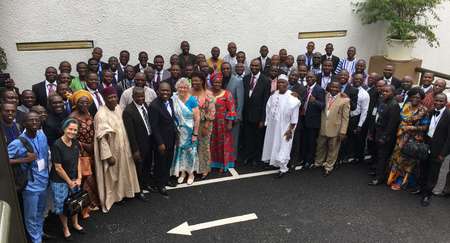 [Photo: Family picture]

The Global Mission leader of the West-Central Africa Division, Pastor Kassoule Zachari due to the challenges facing in propagating the Good News of the Lord in WAD territory, organized a training session in Abidjan from the 28 August to the 8 September 2018.
As we all know, Muslim population, at least 70%, dominates the West-Central Africa Division territory. To enable workers in the fields to be well equipped, the leader of the Global Mission Department decided to invite facilitators from the GC to train Pastors and evangelists giving them the necessary tools for the task ahead of them. The theme of this meeting was "Training the trainers". In his welcoming address, Pastor Elie Weick, President of the Division encouraged all the participants to be focused and result oriented in their various fields. From a text carefully selected in John 10: 16 "I have other sheep, which are not of this fold. I must bring them also, and they will hear my voice. They will become one flock with one shepherd", the President urged his colleagues to do all they can to bring into the fold the remaining sheep that we all may go home.
The essence of this gathering was to change the methods of reaching out the non-Adventists in the Muslim areas and making them disciples of the Lord. In all, 75 delegates from the Unions were present except for CAUM due to the socio-political situation.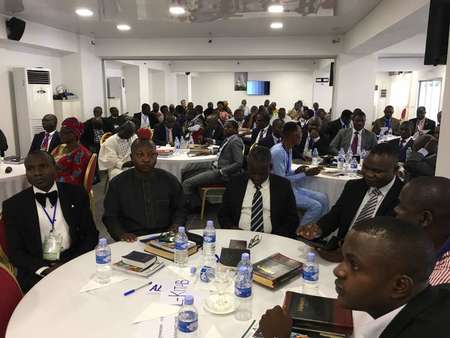 [Photo: Participants]
The guest speakers were, Dr. Petras Bahadur, Director for Adventist Mission and his Associate Dr. Samuel Lumwe and Dr. Pat Gustin, all from the GC. We had also Pastor Kingsley Anonaba, Executive Secretary, Pastor Same Vincent, EDS/Personal Ministries and Evangelism Director and Elder Alexis Kouamé, Assistant Global Mission/ Risk Management Officer all from WAD.
WAD Editors