Galadimawa Outreach: Deception Exposed, Souls Harvested For Christ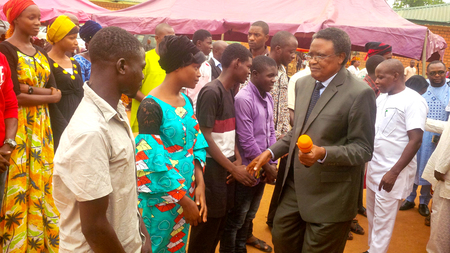 [Photo: Pastor Nyekwere and other Adventist Leaders in a handshake with the newly baptized candidates]

Galadimawa with its large population is one of the many suburbs in the Federal Capital Territory, Abuja - Nigeria.
On April 28th through May 11th, 2019, the community witnessed an undiluted end time lecture series that exposed all time deceptions being peddled by satanic agents.
Resonating in the air every evening as the theme song for the program was the song composed by Franklin E. Belden, which lyrically said: 
"We know not the hour of the Master's appearing; Yet signs all foretell that the moment is nearing; When we shall return - 'tis a promise most cheering - But we know not the hour.
He will come, let us watch and be ready..."
It was a no-hold-bared outreach. The speaker, Pastor Dave Nyekwere - a veteran evangelist, emphatically charged the community dwellers to eschew evil and uphold their salvation only in Christ Jesus.
The end time lecture series was equally reassuring as Pastor Nyekwere assured the people of Galadimawa community that it was never in the agenda of God to forsake those who walk in the path of godliness.
He made bold to remark that the redemption of the world has been done already, stressing that the greatest want of the world as quoted by Ellen Gold White was: "The want of men - men who will not be bought or sold; men who in their inmost souls are true and honest; men who do not fear to call sin by its right name; men whose conscience is as true to duty as the needle to the pole; men who will stand for the right the heavens fall".
Initiated by the Women Ministries of the Seventh-Day Adventist Church, Abuja Central District, North Central Nigeria Conference of Northern Nigeria Union, the two weeks evangelism progressed amidst challenges. However, the bountiful harvest of souls was the hallmark of its remarkable success.
As heaven rejoices, the newly baptized souls were enjoined to yield themselves to God and with their whole heart seek to accomplish His purpose.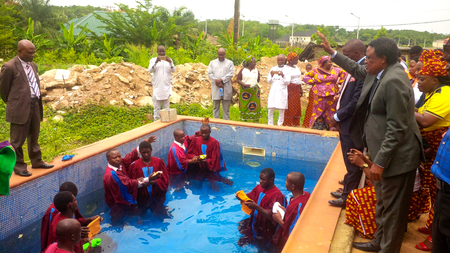 [Photo: Cross sections  of the male candidates in the mood of baptism]
Eight out of 21 people baptized were non-Adventists residence in Galadimawa. As such, the leadership of the Church resolved to open a Branch Sabbath School of Seventh-Day Adventist Church as a way of rooting the three angels' messages in the community, nurture the faith of the newly baptized and at the long run sustain their salvation only in Christ Jesus.
Some of the highlights of the outreach included distribution of food items, free health checks, prayers and counseling.
By Ezinwa Alozie,
Communication Director,
Northern Nigeria Union Conference.