ADRA brings hope to 210 disaster-stricken families by donating food items.
EXTREME-NORTH CAMEROON - MOZOGO
ADRA brings hope to 210 disaster-stricken families by donating food items.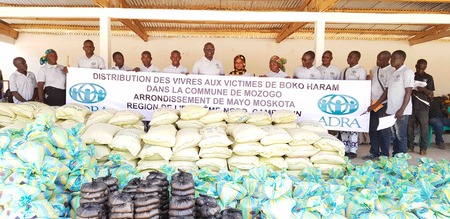 [Photo: A view of the donations made to Mozogo]
After the attacks on the population of Mozogo, in the Mayo Tsanaga department in the Extreme-North of Cameroon, ADRA Cameroon provided emergency aid on Wednesday March 04, 2020 to victims.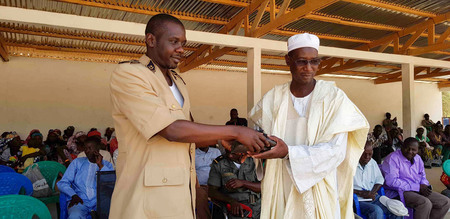 [Photo: Le sous-prefet remet symboliquement le don au chef de Mozogo]
The Permanent Ministerial Representative and the military authorities were seated at the podium of the Mozogo festival square around 11 a.m. Daniel Ndavoumta, head of ADRA North Cameroon office, made a brief presentation on the subject of the ceremony. After Pastor Hendjena Richard's prayer on behalf of the population and the whole Nation, and the words of appreciation of the Permanent Ministerial Representative of Mayo Moskota District, almost ten tons of foodstuffs (rice, beans, sugar, salt and cooking oil) were distributed to the victims from Kotsrahai, Guedjele, Sodecoton, Gabbas, Mawa and Mozogo. Let us note that this project is a project of nearly 9 million FCFA.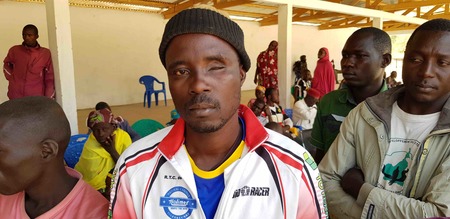 [Photo: Masfaï Abraham a perdu un oeil par Boko Haram]
Masfaï Abraham, one of the beneficiaries, still bears the marks of the Boko Haram fighters' attacks when passing through Kotsrahai his village. "On Monday (March 02, 2020) they came and kill three people in our village: a 7 year old girl, a 16 year old boy and an old man whose name is even on the list of recipients of this morning's donations." This old man's name is Kocheda Salomon who succumbed to the last attacks of the Boko Haram sect.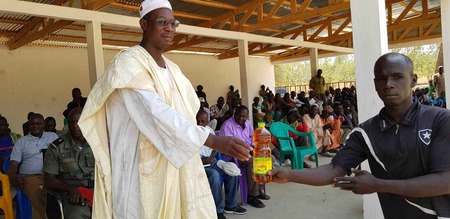 [Photo: Remise symbolique du don par le chef de Mozogo]
Warda Jean, another beneficiary, in his seventies and blind, with his bruised face and exhausted, sign of the Boko Haram's cruelty, had only to say: "They came to pick up my children's clothes and burn down my house and my attic. The cries of distress fear and starvation that's all they left. "
It is in the midst of this distress that ADRA Cameroon set up this emergency project with the support of ADRA International, ADRA Africa and the Adventist Church in Cameroon to help the needy population. The permanent ministerial representative of the Mayo-Moskota district did not fail to praise this initiative of ADRA Cameroon: "It is in difficult times that we recognize our true friends. We thank our donors for this gesture, which brings a ray of hope to the bruised population. According to Daniel Ndavoumta," Everything went on well and we did not even expect such a quick distribution. I appreciated the behavior of the beneficiaries who conducted themselves well during the distribution exercise."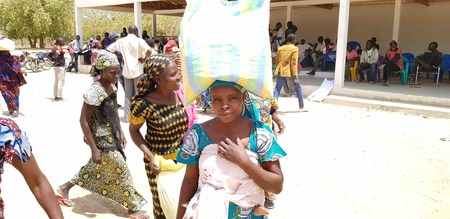 [Photo: La joie d'être servie]
In this state, people are facing a new security challenge; their homes no longer serve as places of refuge. From 4 p.m., everyone begins to empty the neighborhoods to hide in the mountains or in the forest where snakes lie. Confronted with this danger, one of the women we met said: "At least you can defend yourself against the snake and succeed in killing it, but how can one resist to these cruel people:"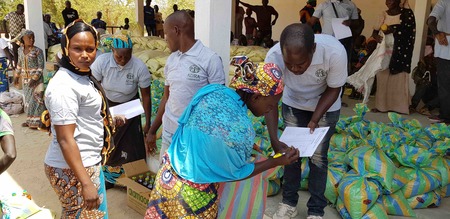 [Photo: Volontaires ADRA à l'oeuvre]


All is sadness along the path that leads to Ouzal and Mandoussa. All of these villages are on the black list of the jihadist sect. According to the Priest of the Catholic Church of Mandoussa, whom ADRA Cameroon team visited, "there are 159 burnt houses and destroyed property, whose value we have not yet estimated." It was in this village that old Pahdi Djegue, 82, was burnt out on February 22, 2020 around 11 p.m.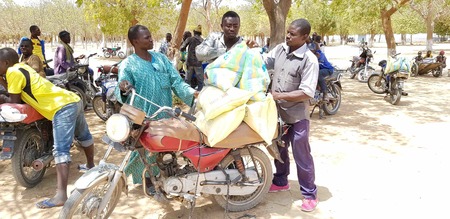 [Photo: Les motos appelées à la rescousse]
It is imperative to attend to the need of this helpless population and ADRA Cameroon is preparing another project to deal with this critical situation.
 Abraham BAKARI