CENTENAIRE DE L'ÉGLISE ASHANTI NEW TOWN- KUMASI, GHANA
CENTENAIRE DE L'ÉGLISE ASHANTI NEW TOWN- KUMASI, GHANA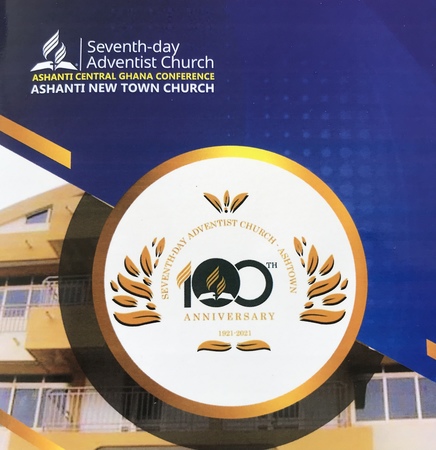 Le Président de la République du Ghana a presque prêché lors de la célébration.
Kumasi, GHANA/ 17 octobre 2021 / Abraham BAKARI, Communication DAO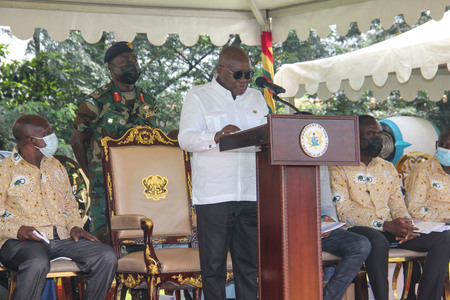 [Photo: Centenary President of Ghana giving his speech]
Nana Addo Dankwa Akufo-Addo a utilisé les Saintes Écritures et une citation d'Ellen White lors de son discours le samedi 16 octobre 2021 à Kumasi, au Ghana. C'était à l'occasion du centenaire de la communauté adventiste d'Ashtown. L'homme d'État a répondu favorablement à l'invitation de l'Église.
La foule de plus de 5 000 personnes réunies au Wesley College of Education de Kumasi a applaudi à plusieurs reprises le chef d'État ghanéen. L'Église Ashanti New Town ou Ashtown célébrait son 100e anniversaire. D'emblée, Nana Akufo-Addo a salué la contribution de l'Église Adventiste au développement de la nation.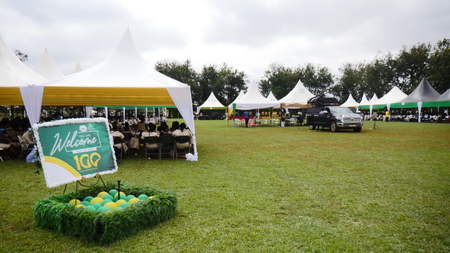 [Photo: Centenary General view]
« Les adventistes ont eu un impact non seulement sur la communauté locale mais aussi sur l'ensemble de la nation. Nous pouvons dire avec une grande fierté que les Adventistes ont joué un rôle important et crucial dans le développement du Ghana. » Il a ensuite cité Colossiens 3:23-24 dans sa version anglaise de Holman Christian Standard Bible « Et quoi que vous fassiez, faites-le de bon coeur, comme pour le Seigneur, et non pour les hommes; Sachant que vous recevrez du Seigneur la récompense de l'héritage, car vous servez Christ le Seigneur. » (La Bible Ostervald)
Le président a poursuivi au milieu des acclamations et des ovations : « Pour moi, c'est l'essence du christianisme : servir Dieu et servir l'humanité. La croissance de l'Église doit se mesurer non seulement au nombre de ses adeptes, mais aussi à la qualité de ses membres qui se consacrent à la défense des vertus spirituelles de Jésus-Christ, et qui veulent contribuer à la construction d'un Ghana prospère et progressiste. »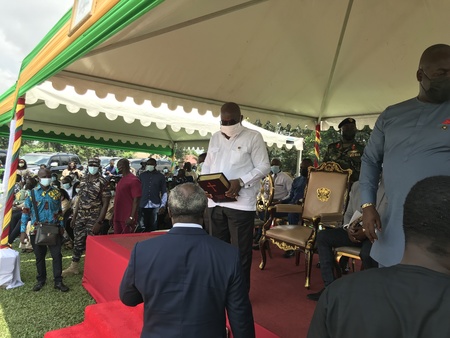 [Photo: His excellency receiving the Bible]

« Vous avez été un bon exemple de ce que signifie s'aimer les uns les autres et donner allègrement à ceux qui sont dans le besoin, et je n'ai aucun doute que cet héritage de ministère et de compassion honorera longtemps cette Église », a-t-il ajouté.
Un appel à prier pour le Ghana
A la fin de son discours, le 12e Président du Ghana a exprimé un souhait bien noté. « Ma prière est que cette église continue pendant les 100 prochaines années à propager l'Évangile de Jésus-Christ, à gagner des âmes et à servir le peuple du Ghana et le Dieu Tout-Puissant. Ce faisant, s'il vous plaît, priez pour moi, pour le gouvernement, pour que nous exercions notre responsabilité en toute humanité et intégrité et priez pour le Ghana. »
Il a également cité un extrait de Testimony to the Church at Battle Creek à la page 49. « Alors que nous célébrons le 100e anniversaire de cette Église, a-t-il dit, je conclus mon discours par une pensée de l'une des pionnières adventistes Ellen White. "La vie du Christ est une vie d'humble simplicité, mais combien infiniment exaltée fut sa mission. Le Christ est notre exemple en toutes choses" ». Le message bouleversant de l'homme d'État a ému l'assemblée. De temps en temps, l'assemblée répondait par des hochements de tête, des applaudissements et des sourires.
Collecte de fonds pour la construction d'une école moderne
L'église Ashanti New Town a saisi l'occasion pour collecter des fonds pour la construction d'une école moderne à Kumasi. Le monarque du royaume Asante s'est engagé à verser une contribution de 1 000 $ au projet, la Division de l'Afrique de l'Ouest et du Centre des Adventistes du Septième Jour a donné 6 000 $ et le Président de la République a donné 10 000 $.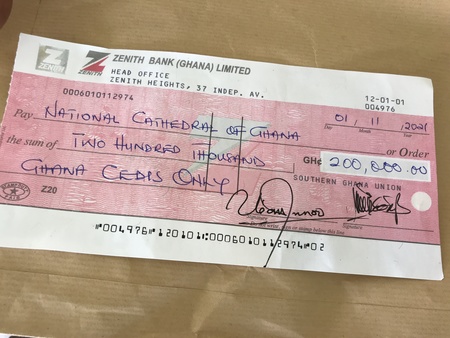 [Photo: Contribution for the NAtional Cathedral]
Le thème du centenaire était « S'unir dans l'esprit de nos pionniers pour bâtir l'Église et la société ». Le pasteur résident et hôte, Desmond Osei-Tutu Acheampong, a affirmé que « l'Église d'Ashanti New Town a contribué à la création de nombreuses écoles, centres de santé, cliniques et hôpitaux."
En effet, l'impact de cette Église est puissant. Des dizaines d'églises sont encore en train d'être implantées dans la métropole, une douzaine d'écoles et un hôpital sont les fruits de l'Église Ashtown. L'expérience de l'ancien Secrétaire exécutif Pasteur Matthew Ango Bediako et de son épouse  Elisabeth Bediako remonte à cette église centenaire.
Contribution pour une cathédrale nationale
Le président de la DAO, Pasteur Elie Weick-Dido, et le Trésorier, Pasteur Emmanuel Manu, ont rejoint le peuple de Dieu pour conclure les activités de la célébration du centenaire qui ont débuté en février 2021. Les dirigeants des deux Unions du Ghana étaient également présents et ont remis au chef de l'État le chèque de 40 000 $ de contribution de l'Église adventiste du Septième Jour du Ghana à la construction d'une cathédrale nationale à Accra.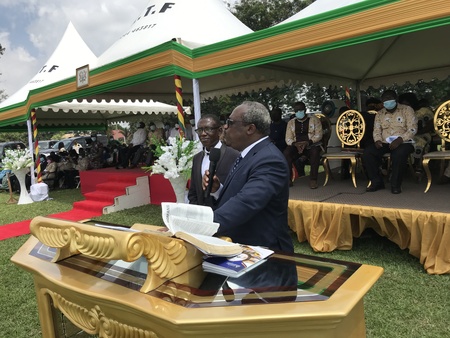 [Photo: Le président de la DAO, Pasteur Elie Weick-Dido, et le Trésorier, Pasteur Emmanuel Manu]
En tant que porteur de la vision, le Président du Ghana explique la raison d'être du projet. « La cathédrale nationale concrétise cette vision d'une société médiatisée par le Tout-Puissant, et représente un espace sacré pour la nation. La cathédrale répond ainsi à un chaînon manquant dans notre architecture nationale, à savoir une église à vocation nationale. Il s'agira d'un lieu de culte et de prière interconfessionnel, qui servira de cadre à des événements officiels de nature religieuse, tels que l'investiture des présidents, les funérailles nationales, les services d'action de grâce nationaux, entre autres. »


[Photo: Ashtown Church Building]
La communauté Ashanti New Town fait partie de la Fédération Ashanti du Centre du Ghana dans l'Union Fédération du Nord du Ghana nouvellement votée. Le Pasteur Elie Weick-Dido a fait une annonce publique et solennelle du vote pris le 10 octobre 2021 au cours des travaux du Comité annuel 2021 du Comité exécutif de la Conférence Générale des Adventistes du Septième Jour qui se sont achevés le 13 octobre 2021. Comme disait le pasteur Elie Weick, « Le voyage a été long, mais nous voulons remercier le Seigneur de nous avoir conduits et guidés tout au long du processus. »
Le président de la DAO, dans un sermon puissant, a élevé haut le nom du Dieu qui est plein de grâce et de miséricorde. Lorsque le peuple de Dieu s'engage dans la mission, le Seigneur le bénit et guérit son pays.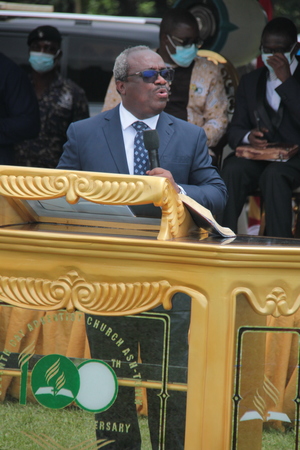 [Photo: Centenary Pr Elie Weick preaching]
L'église Ashanti New Town de Kumasi a commencé ce voyage lorsque le pasteur John Kwabena Kaipro Garbrah (1882-1962) est arrivé à Kumase le mercredi 12 octobre 1921. « Il fut le tout premier pasteur adventiste du septième jour ghanéen à être ordonné dans le ministère de l'Évangile de l'Église", comme le dit  Professeur Kofi Owusu dans son article "History of Seventh-day Adventism in Ashanti Region of Ghana".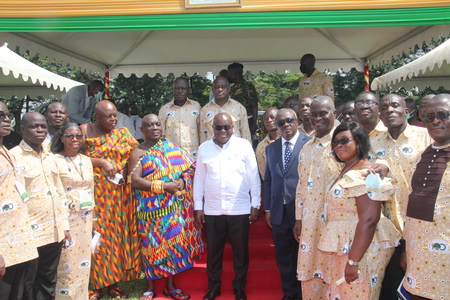 [Photo: Centenary Family picture]
Le pasteur Kwanin Boakye, président de l'Union Fédération du Sud du Ghana, encourage "les membres d'Ashtown à renouveler leur engagement envers Dieu alors qu'ils célèbrent cette occasion historique." Au mois d'octobre 2021, cette Église locale compte 1 568 membres baptisés et 560 enfants qui sont heureux de servir le Seigneur.  A Dieu soit la Gloire !