PRESIDENT OF GHANA COMMENDS ADVENTIST FOLLOW THE BIBLE INITIATIVE
Solace Asafo-Hlordzie, GUC Communication
The President of Ghana, H.E John Evans Atta Mills has expressed his gratitude to the Seventh-day Adventist Church for presenting to him the unique travelling Bible which emphasises a return to the principles of the Bible. "The Bible has come to the seat of government and I am sure it will leave its holy presence here," President Mills said.
He said this at the castle on Monday, January 25, 2010 when leaders of the Ghana Union Conference went there to present to him the Travelling Bible.
President Mills called on Christian churches to teach their members to respect the core values that the Bible promotes and inculcate the right values in the youth. "He stated his disappointment at the emphasis on prosperity by some churches and appealed that churches must teach people about the realities of life.
"In the book of Acts, Paul calls on us to rejoice in persecution, but some churches are not teaching that and so we see all kinds of ills in our society" He commended the Seventh-day Adventist Church for sharing Bibles as part of the Follow the Bible activities. "The distribution of Bibles is half the battle won" the President of Ghana said.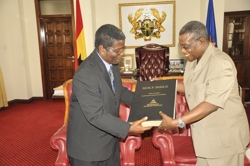 Earlier, the President of the Ghana Union Conference, Pastor Samuel Adama Larmie has briefed the president on the objectives for which the worldwide church is sending the unique Bible on a global tour. According to him, research has shown many professed Christians are not reading the Bible.
He told President Mills that message of the travelling Bible is a call to all Christians to go back to the Bible by reading it, applying it and sharing it with others.
The delegation to the office of the President was made up Pastor R. Danforth Francis, WAD Ministerial Secretary, Pastor Ambrose Waahu, the GUC Executive Secretary, Elder Isaac Owusu Amponsem, the GUC Treasurer, Dr Seth Laryea, President of Valley View University, Dr W.Y.K. Brown, Country Director of ADRA, Pastor Anthony Kessie, South Ghana Conference President. Others were Pastors J.K Badu, Nii Lantey Thompson and Madam Margaret Osei and Solace Asafo-Hlordzie.