The Northern Ghana Union Conference Of Seventh-Day Adventists Organises Maiden Quinquennial Session
THE NORTHERN GHANA UNION CONFERENCE OF SEVENTH-DAY ADVENTISTS ORGANISES MAIDEN QUINQUENNIAL SESSION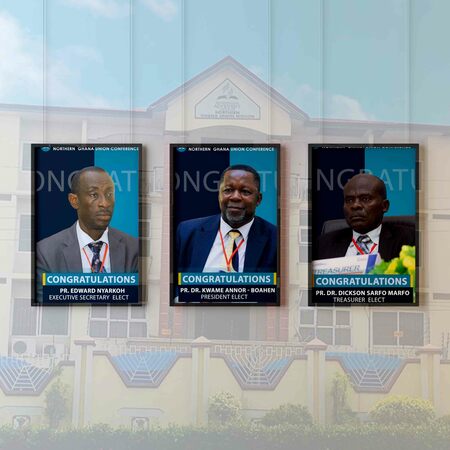 [Photo: The three Administrators]
The Northern Ghana Union Conference (NOGH) organized its first-ever quinquennial session from 23rd to 27th November 2022 at the chapel hall of Seventh-day Adventist Nursing Training College, Barekese, in the Ashanti Region of Ghana to elect officers and directors to steer the affairs of the new Union Conference. Voted into mission status on 14th April, 2013 at the spring meeting of the General Conference, the Northern Ghana Union Mission grew in eight years to achieve Conference status by vote on 10th October, 2021 at the annual council meeting of the General Conference of Seventh-day Adventists.
Themed, I will Go, Be His Disciple, the NOGH quinquennial session was attended by 92 participants with all constituents from the territory duly represented. The West Africa Division President, Pr. Robert Osei Bonsu, chaired the session successfully by the grace of God with the following election results:
President: Pastor Dr. Kwame Annor-Boahen;
Executive Secretary: Pastor Edward Nyarko;
Treasurer: Pastor Dr. Dickson Sarfo Marfo forming the officers of the Union Conference.
The directors elected were:
Adventist Men's Ministry/Possibility Ministry/Sabbath School / Personal Ministry: Pr. Paul  Danquah;
Family Ministry, Ministerial Secretary: Pastor Fred Agyei-Baah;
Stewardship/Strategic Planning: Pastor James Amoh;
Trust Services: Pastor Godfred Kwesi Ataburo;
AWR – Ghana/Communication/PARL: Mrs. Belle Osei Bonsu;
Adventist Youth Ministry: Pastor Dr. Dan K. Owusu Ansah;
Chaplaincy: Pastor George G. Asamoah;
Estates/Public Campus Ministry: Pastor Alexander Agyapong;
Global Mission/Adventist Muslim Relations/Trust Services: Pastor Godfred Kwesi Ataburo;
Children's Ministry/Women's Ministry: Mrs. Vida Linda Gyasi;
Education: Ms. Esther Gyasi-Pokuaah;
Publishing/SOP: Pastor Richard Armah Tandoh;
Associate Secretary: Elder Baffour Owusu Sekyere;
Associate Treasurer: Elder Owusu Amoako;
Associate Treasurer: Elder Eric Owusu Boateng.
The three officers were each given a charge by the WAD President, WAD Executive Secretary, and the WAD Treasurer respectively to enable them to lead the Union as faithful stewards.  In response to the various charges given, the newly elected officers and the directors pledged their allegiance to the call to dedicated service to the Lord.
| | |
| --- | --- |
| | |
Written by: Mrs. Belle Osei Bonsu, Director AWR/Comm./PARL