CAMEROON - School Chaplaincy : A MIRACULOUS HEALING
CAMEROON - School Chaplaincy : A MIRACULOUS HEALING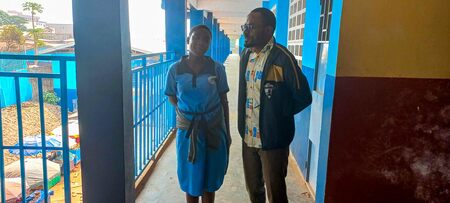 [Photo: Student Kamoh and Bible teacher Pastor Yetna Alain Michel]
Kamoh entered his Bible teacher's office, barely breathing.
Since the beginning of the 2022/2023 school year, Pastor Yetna Alain Michel has been chaplain in charge of the English and bilingual section and Bible teacher at the Adventist College in Yaoundé, the capital of Cameroon. The twelve-year-old girl, a student in FORM 1, became attached to him in a short time and in a surprising way. In just a few weeks, he taught her to dialogue with God in prayer and to rely on His promises by faith...
When the pastor saw her, he knew right away that something was wrong. She was clutching her chest and having great difficulty breathing. He helped her to sit up. "Sir, something is wrong with me," she said. "Please tell me what's bothering you," the pastor replied. The girl sighed and continued, "Sir, I haven't told you this since, but I have a serious problem with my heart." The pastor listened attentively as Kamoh narrated, with tears in his eyes, the reasons for her ailment. A few months earlier, specialists had told her parents that she had a heart problem that required urgent surgery. This was after she had fainted and was taken to the gynecological-obstetrical hospital in Yaoundé. A trip had already been planned for heart surgery in Italy. "Every time I feel sick, I feel like my heart is going to stop. Sir, I think I'm going to die soon, and that scares me a lot," she concluded.
The pastor left his chair and gently came to hold the girl's trembling hand.
- Do you think this disease is bad enough to kill you?
- Oh yes, sir, I feel it inside me, and I can read the ill-concealed worry in my parents' eyes when they talk about it.
I understand," said the pastor, before continuing, "Do you think it's so bad that even God can't do anything about it?"  
The girl hesitated to answer. The pastor, who did not want to embarrass her, immediately spoke again: "Here is what I propose to do: we will pray, you and I. We will pray one after the other. We will pray every morning when we wake up and every evening when we go to bed in our various homes, so that God will heal you. Then you can come to see me every day after school so that we can pray together. I believe with all my strength that God can heal you and save your young heart from being operated on, unless you believe it with all your heart. Can you do that?"
She agreed although she later admitted that she had only said yes at the pastor's word, but not that she really believed it...
The pastor arrived at the school early that Monday morning and opened his office. It had been only a few weeks since his meeting with Kamoh and since then, they had followed their prayer program as planned. He had barely settled into his chair when the girl came rushing in and literally fell on his shoulders. "Pastor, I've been waiting for you since six A.M.! Without even sitting down, she enthusiastically told the pastor that she had made a follow-up visit over the weekend. The doctors were surprised to see a completely normal heart. "What did you give her?" they asked her parents several times.
The pastor listened with wonder to the girl's story. This experience totally transformed the young girl who never spent another day without praying with the pastor.
Armand Arnaud YANGMAN AVOM / Alain Michel YETNA
Communication Cameroon